About Fidelity Information & Records Management
Fidelity Information & Records Management is a full-service hard copy and microforms storage and management facility located in close-by New Jersey.
Our promise to you is simple:
We will spare no expense in providing the necessary financial commitment to assure you superior quality systems and services at cost effective rates.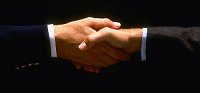 The management at Fidelity Information & Records Management fully realizes that records management storage and services need to encompass much more than just boxes or files on shelves. When you become our customer, we also become your partner in helping you to limit the liability placed on corporate officers and directors through a comprehensive, managed and verifiable system of records storage and management.
To that end, we offer:
A secure, meticulously-maintained records center
State-of-the-art, multiple-level security with backup systems
Industry-leading, bar-coded management and tracking systems
In-house pickup and delivery service by bonded, uniformed drivers
Disaster recovery plan
Web-based interfacing and online ordering software
Scan on Demand™ digital imaging
Automatic notification of items scheduled for destruction or withdrawal
In today's complex business world it takes a planned, comprehensive and well-maintained system of document storage and management by an experienced records management company to ensure that your documents and files are organized, categorized, secure and easily accessible whenever you need them. Without the planned, document storage and services that Fidelity offers, you are open to many records management problems such as poorly executed retention schedules due to personnel changes or, even worse, tampering by a disgruntled employee. A partnership with Fidelity, helps you to not only avoid those problems, but gain a competitive edge. Our constant pledge to you is to not only meet, but also exceed, all your expectations. We serve legal and accounting firms, government agencies, hospitals, financial institutions, private businesses and more; and are ready to serve you, 24 hours a day, 7 days a week, every day of the year.
Accuracy…Reliability…Fidelity
Contact us today for a free consultation on how using our storage and services make sense not only financially, but can enhance the short and long term goals of your business.