Fidelity Information & Records Management Facilities and Security
Fidelity Information & Records Management is proud of our proven track record for records storage and services. To remain an industry leader, however, we realize that resting on our laurels is not enough. That is why we are always analyzing our safeguards, reviewing our procedures and, when warranted, revising our policies in an ongoing attempt to provide you with the best and most comprehensive choice available.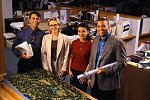 While this continuous series of checks and balances are part of our daily operating procedure, we realize that to you, our customer, it all comes down to one simple question: "Can my records storage and services assure me that my boxes and files will be safeguarded and available when I need them?"
The answer is a resounding, "Yes!"
Consider the following:
High-capacity off-site records center facility centrally located in near-by New Jersey
Active sprinkler system checked and tested regularly
State-of-the-art video surveillance, motion detection and sound monitoring
State-of-the-art, early-warning smoke and heat detectors
High-security keypad systems
Exterior doors and perimeter locked and secured at all times
Ongoing review of all procedures and policies
Three alternate locations available for emergency relocation
Backup tapes rotated to alternate sites on a daily basis
Interruption-proof business plan utilizing alternative sites
Records access only by personnel holding authorization key-pad swipe cards issued by management
There is not a better maintained, more closely monitored, safe and secure records storage and management company to be found anywhere than Fidelity Information & Records Management. Our network of quality systems and services, along with our attention to detail in formulating a custom-tailored plan that compliments the requirements you have for your business, makes us second to none in the industry. Whether it is hard copy box, open-file or microforms storage or service management, Fidelity would like the honor of being your partner. Remember the three words that say it all….
Accuracy…Reliability…Fidelity