Fidelity Information & Records Management Services
Document Storage:
The short answer is that it's the most obvious function of a commercial, off-site records management company. The long answer, however, tends to be much more complex. Hard copy storage, especially in the New York/New Jersey area, requires a modern storage facility that is safe, secure and manageable. Fidelity utilizes the latest advances in structural steel shelving technology specifically designed for hard copy storage and service. Online, bar-code tracking and a fully integrated inventory control system ensure your boxes and/or files are where they're supposed to be when you call to access them.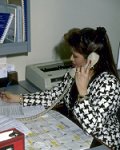 Retrieval/Refile: It would be of little use to offer records storage if you couldn't gain easy access to or return your boxes or files when you need to. At Fidelity, all it takes is a phone call, a fax, or an online request to have your files e-mailed, faxed or delivered in a timely fashion and at your convenience. (However, since we can't complete any order without written confirmation, please follow up your phone call with an e-mail or fax). When you're finished with them, just give us a call and we'll promptly pick them up and put them back where they belong. We do the work so you can concentrate on yours!
Data Entry: Fidelity keeps a detailed history of every box or file or microform in our possession, up to and including its scheduled destruction. You may instantly access your records storage history, including its contents, who accessed it, and when it was accessed. Perhaps more importantly, find out who tried to access your files but was denied due to not being authorized. At Fidelity, we keep an eye out for your interests!
Transportation: Each vehicle in Fidelity's modern fleet is optimized to ensure the perfect interior climate and security for transportation of your records. All vehicles are equipped with U.L.- approved ABC fire extinguishers in case of an emergency. Our drivers are all bonded, wear uniforms, and carry photo identifications and two-way communications issued by Fidelity. Every six months, we obtain a state motor vehicle report on each driver's license. Additionally, all drivers are subject to random, periodic drug screenings.
It all serves to remind you of the only three words you need to know when researching records and information management in the New York and New Jersey areas:
Accuracy…Reliability…Fidelity